---
Thank you for the kind words
Thanks for the continuing support for the Baby Boomer Mystery series including: "There are cozies for every topic, and that includes baby boomers. Award-winning author Susan Santangelo is the master at taking a lighthearted look at the issues facing the seventy-six million members of the fastest growing market segment in the country: the baby boomers."
--Stacy Mantle, The Big Thrill, online publication of International Thriller Writers.
Thank you.
6:30 pm est
---
Since January 1, 2006, Baby Boomers are turning 60 at the rate of 8,000 a day, and coming face to face with how to define, and re-define, our "golden" years. Being part of this national phenomenon inspired me to write this mystery series. The first book, Retirement Can Be Murder, tackles the potential emotional impact of retirement on a typical Baby Boomer couple, Jim and Carol Andrews.
Carol dreads Jim's impending retirement more than a root canal without Novocain. She can't imagine anything worse than an at-home husband with time on his hands and nothing to fill it -- except interfering the day-to-day activities of their houshold and driver her crazy. Until her plans to stall Jim's retirement result in her husband being suspected of murdering his retirement coach.
As the series continues, I'm doing lots of author talks and signings. The stories other wives have shared with me about their husbands' retirement have been both funny and poignant. I'm thrilled to say that Retirement Can Be Murder has gotten terrific reviews. Midwest Book Review calls it "an entertaining and lighthearted read from a real pro. The Baby Boomer mysteries promise to be as germane as 'Murder She Wrote.' It would make a great television series." And Booklist says, "We'll look forward to more Boomer mysteries in the years to come....Pure fun."
A little about Susan: I've been a feature writer, drama critic, and editor for daily and weekly newspapers and magazines in the New York metropolitan area, including a stint at Cosmopolitan magazine. I'm a member of Sisters in Crime, International Thriller Writers, and the Cape Cod Writers Center, and divide my time between Florida and Cape Cod, MA. I share my life with husband Joe and English cocker spaniels, Boomer and Lilly.
Check out Retirement Can Be Murder, Moving Can Be Murder, Marriage Can Be Murder, Class Reunions Can Be Murder, Funerals Can Be Murder, Second Honeymoons Can Be Murder and Dieting Can Be Murder, all on Amazon.com.
To schedule an appearance or for other question, please contact: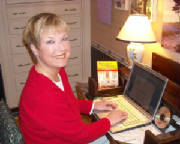 Author Susan Santangelo